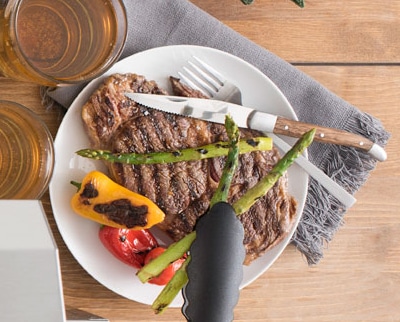 This easy weeknight dinner cooks entirely on the grill and takes less than half an hour to make.  If asparagus is out of season, substitute for grilled romaine or another one of your favorite vegetables.
Prep Time: 10 minutes
Cook Time: 14 minutes
Total Time: 24 minutes
Serves: 4
Ingredients:
4 tsp sea salt
1 tsp ground black pepper
1 1/4 lb strip steak
2 tbs extra-virgin olive oil
3/4 lb asparagus, ends trimmed
Instructions:
Add 16 oz of liquid to drip tray and preheat Kenyon Grill to high.
Drizzle the steak with 1 tbs of olive oil. Use the remaining 1 tbs of olive oil over the asparagus spears.
Grill the steak for 4 to 5 minutes per side. If you like, you can insert an instant-read thermometer horizontally into the steak; it should read 130°F (54 °C).  Transfer the steak to a cutting board and let rest for 5 minutes.
While the steak is resting, lower the temperature to medium heat and place the asparagus on the grate. Cook the asparagus until dark green and grill marks begin to appear, about 5 minutes.
Transfer the asparagus to a serving plate and season to taste with salt and pepper.