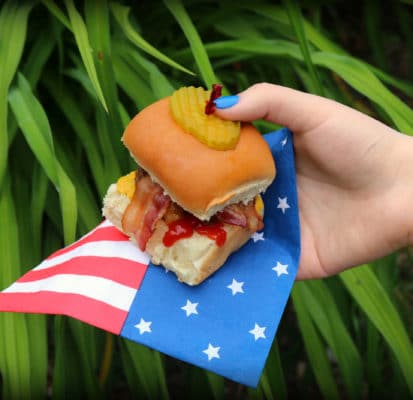 Slider burgers are a fun alternative to traditional-size hamburgers, perfect for parties!
Prep Time: 10 minutes
Cook Time: 8 minutes
Total Time: 18 minutes
Serves: 4-6
Ingredients:
12 Slices of Bacon
1.5 Pounds Lean Ground Beef
1 Tablespoons Worcestershire Sauce
Salt and Pepper
Colby-Jack Cheese
12 Small Dinner Rolls
Instructions:
Cook bacon to your liking and set aside
Add 16 oz of liquid to drip tray and preheat Kenyon Grill to high.
In a large bowl combine beef,  Worcestershire sauce and salt and pepper, and mix well. Form into 12 small patties.
Place the patties on the grill; cover and cook to desired doneness, 2 to 4 minutes per side for medium-rare. Add the cheese to the top of the burgers during the last minute of cooking .
Serve burgers on rolls, dress up with bacon, ketchup, mustard, pickles…the possibilities are endless!