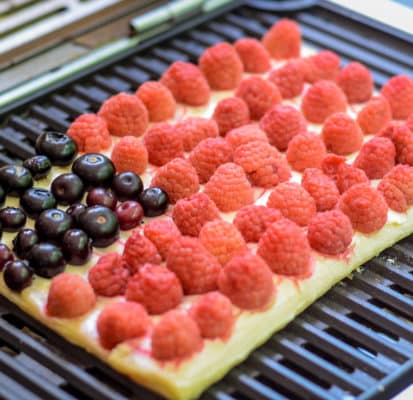 Celebrate this 4th of July with pride! Serve up a red, white and blue American Flag themed dessert at your cookout! Made with summer fresh blueberries and raspberries, this quick and easy to make sweet treat goes right on the grill!
Ingredients:
1 sheet refrigerated puff pastry
1 package (8 0z) cream cheese, softened
1/4 cup powdered sugar
2 teaspoons grated lemon peel
1 cup fresh raspberries
1/2 cup fresh blueberries
Directions:
Prepare puff pasty as directed on the package. In a medium bowl beat cream cheese, powdered sugar and lemon peel until fluffy. Preheat your Kenyon grill to a medium-low heat setting of 2-3 bars. Roll out puff pastry directly on the grill. Spread the mixture evenly and arrange blueberries and raspberries to resemble our great American Flag! Close the lid and grill for approximately 10 minutes.