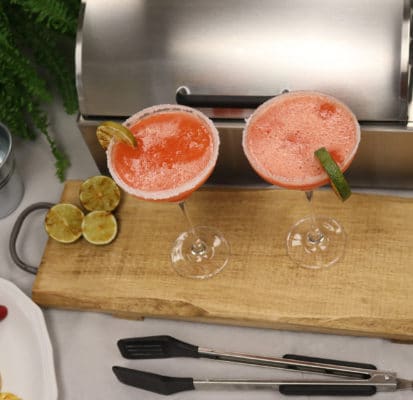 Enhance a classic margarita with the flavors of grilled strawberries and a squeeze of grilled lime.
Prep Time: 5 Minutes
Total Time: 15 Minutes
Serving Size: 2
Ingredients:
1 lb Strawberries (Hulled)
Granulated Sugar
1-2 Limes
1 Cup Margarita Mix
3 oz Tequila
Ice
Directions:
Preheat your Kenyon grill to a med-high heat.
Hull Strawberries and place them on pre-soaked skewers. Lightly coat with sugar and set aside.
Cut Lime into 1/4″ thick slices.
Once your grill has preheated, place the strawberry skewers and limes on the grate and close lid. Let grill for approximately 3-4 minutes per side, removing limes first. Set aside and let cool.
Rim your margarita glasses with the lime then dip in either salt or sugar.
In a blender add margarita mix, tequila, ice and grilled strawberries. Blend until frothy. Pour and add a squeeze of grilled lime. Use any remaining grilled fruit to garnish the glass.
Sip and enjoy!