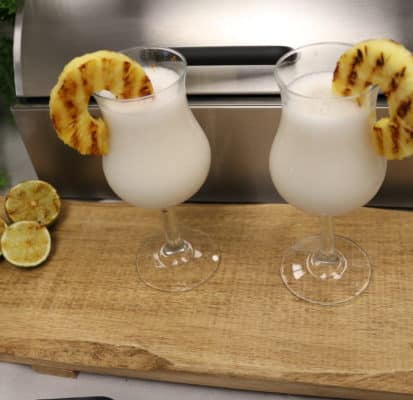 Add a subtle smoky flavor to your summer cocktails with this Pina Colada recipe featuring fresh, grilled pineapple and a squeeze of grilled lime.
Prep Time: 5 Minutes
Total Time: 15 Minutes
Serving Size: 2
Ingredients:
1 Cup Sliced Pineapple
1/4 Cup Cream of Coconut
3 oz White Rum
1 Lime
2 Cups Crushed Ice
Maraschino Cherries (Optional Garnish)
Directions:
Preheat your Kenyon grill to a med-high heat.
Place sliced pineapple and lime on the grill  for approximately 3 minutes per side or until golden, removing the limes off the grill first.
Set grilled fruit aside on a plate. Allow the pineapple and lime to completely cool before adding to the blender.
Add grilled pineapple, cream of coconut, rum, and ice to the blender. Squeeze in the juice from the grilled lime.
Blend on high until smooth.
Pour into a tall glasses and garnish with cherry, lime and grilled pineapple.
Since you've already got the grill going why not make it a party and whip up our grilled strawberry margaritas to compliment the Pina coladas!