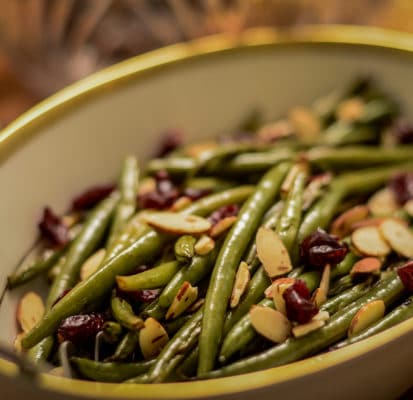 If you've never tried to grill green beans, you're in for a treat.  Grilled green beans are tender, caramelized and full of flavor.  Dress them up with cranberries and almonds for a perfect holiday side dish.
Preparation Time: 10 minutes
Total Time: 22 minutes
Serves: 6-8
Ingredients:
2 lb fresh green beans, stem ends trimmed
2 tbsp olive oil
1/4 tsp salt
1/2 tsp fresh black pepper
1 tsp lemon zest, from one lemon
2 tsp lemon juice, from one lemon
1/2 cup dried cranberries
1/2 cup almond slivers
Instructions:
Preheat your Kenyon Grill on medium heat (5 bars) for 7 minutes.  Meanwhile wash the green beans.
Combine olive oil, pepper, salt, lemon zest and lemon juice in a large bowl.  Add the green beans, and toss to coat.
Place green beans directly onto the grate.  Cook for 6 minutes on each side or until grill marks are achieved.
Put the green beans in a large bowl and toss in cranberries and almond slivers.  Serve warm.