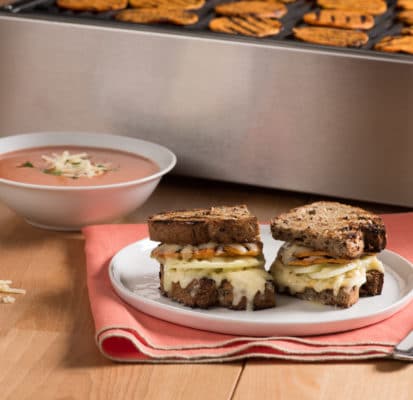 Pair this hearty sandwich with a steaming bowl of soup for the ultimate fall warm-up.
Preparation Time: 5 mins
Total Time: 20 mins
Serves: 4
Ingredients:
1 large sweet potato, peeled and sliced thinly (about 3/4 lb)
1/4 cup olive oil, divided
1/4 tsp each salt and pepper
8 slices multigrain bread
2 tbsp Dijon mustard
3 cups shredded old white Cheddar cheese
1 apple, peeled and sliced thinly
Instructions:
Add liquid to drip tray and preheat Kenyon City Grill® to medium-high. Toss sweet potato with 1 tbsp olive oil, salt and pepper; grill for 3 to 5 minutes per side or until tender.
Spread 4 slices of bread with mustard; sprinkle with some of the Cheddar, then layer apple slices over top. Sprinkle with some more of the Cheddar, then layer sweet potato over top; sprinkle with remaining Cheddar. Cap with remaining slices of bread.
Brush outsides of sandwiches with remaining olive oil. Grill for about 3 minutes per side, flattening with spatula, until bread is nicely grilled and cheese is melted.
Tip: For a boldly flavored grilled cheese, substitute crumbled blue cheese for the Cheddar cheese.