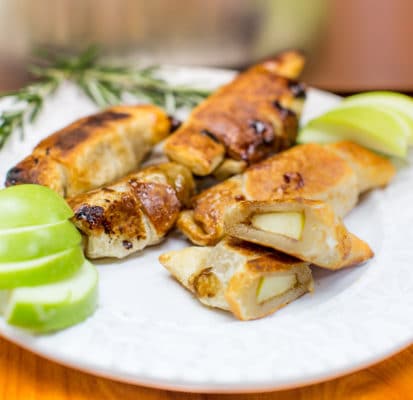 Homemade apple pie made easy!
The perfect bite for breakfast or dessert.
Prep Time: 15 Mins
Total Time: 25 Mins
Serves: 8
Ingredients:
1 Can Croissant Dough
2 Granny Smith Apples
1/4 Cup Light Brown Sugar
1 Tsp Apple Pie Spice
1/4 Cup Chopped Nuts
3 Tbsp Melted Butter
Directions:
Swap out the grate for the griddle attachment and preheat your Kenyon grill to medium heat.
Add a cup of water or apple cider to the drip tray.
Slice Apples and set aside.
Individually place each croissant on a flat prep surface lined with parchment paper.
Melt butter in a bowl and toss in apple slices to coat.
In another bowl, mix together brown sugar and apple pie spice.
Evenly sprinkle the sugar and spice blend on each croissant and scatter chopped nuts on top.
Place an apple slice at the wide end of each triangle and wrap the apple up in the dough.
Lightly coat the outside of the dough with butter and place on the griddle.
Close lid and grill for approximately 4 minutes on each side until golden brown,
Sugar and spice and everything nice…
Indulge in this sweet treat with a drizzle of caramel, a dollop of whipped cream or a scoop of vanilla ice cream.