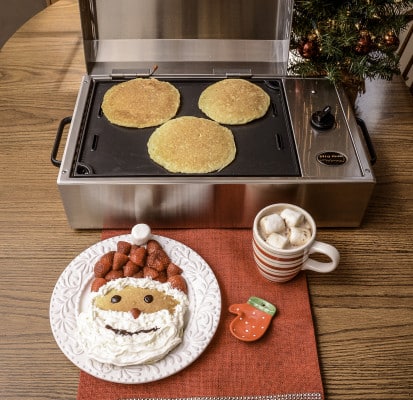 Yule love these adorably jolly Santa pancakes as a festive way to start off your Christmas morning!  Add a side of sausage and/or bacon and a cup of creamy hot cocoa filled to the brim with fluffy marshmallows or a glass of chilled spiced eggnog for an Elf approved breakfast!
Ingredients:
Pancake Mix
Milk
Eggs
Oil
Cinnamon
Vanilla
Sliced Strawberries
Chocolate Sauce
Marshmallows
Directions:
Remove the grate from your All Seasons™ Grill and insert the optional griddle.
Add 1.5 cups of water to the drip tray and preheat grill to a medium heat (4 bars).
Since it's Christmas morning, save yourself some time and energy and use a pancake pre-mix.
Buttermilk or almond milk are delicious alternatives to create a fluffier pancake. Add a dash of cinnamon and a hint of vanilla to the batter.
Whisk all ingredients together as directed. Don't over mix your batter, small lumps are fine.
Let the mix sit for a couple minutes then pour 1/2 cup of  batter onto the griddle.  You'll want to make larger pancakes to have room for all of Santa's accessories.
When the batter starts to bubble and the edges set, flip over.  Repeat until remainder of the batter is finished.
Once your pancakes have cooled, add strawberries sliced in half to make Santa's hat and top with a marshmallow. Add a whipped cream beard and trim the hat. Dab on chocolate sauce to create eyes and a joyful smile.
Now that you've had a breakfast full of Christmas cheer, let the gift giving and un-wrapping commence!