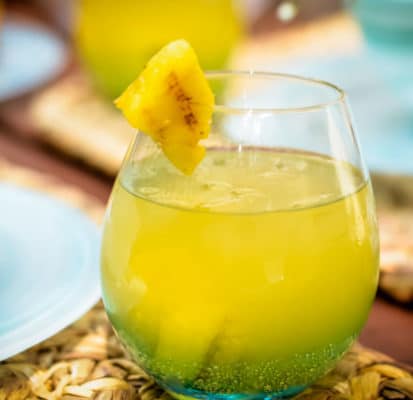 This twist on classic lemonade will add a whole new level of fruity flavors.  Feel free to add a dash of silver rum or tequila.
Preparation Time: 20 minutes
Grill Time:  10 minutes
Total Time: 30 minutes
Serves: 12
Ingredients:
12 ounces fresh pineapple, sliced (reserve juice)
8 cups hot water
6 tablespoons granulated sugar
1 1/2 cups fresh lemon juice (8 large lemons)
Instructions:
Preheat your Kenyon Grill to medium-high.  Add pineapple slices and cook for 5 to 6 minutes on each side until grill marks appear.  Set slices aside until cool.
Combine 8 cups hot water and sugar in a large drink dispenser.  Stir with a whisk until sugar is dissolved.
Puree pineapple and lemon juice in a blender until relatively smooth.
Combine the reserved pineapple juice, lemon juice and sugar.  Add to the drink dispenser.
When ready to serve, add grilled pineapple slices and ice to the drink dispenser.