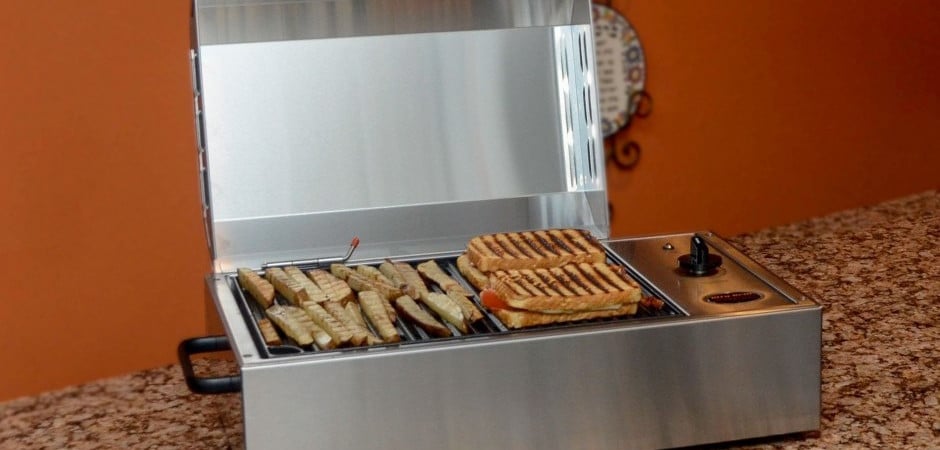 Are you looking for a solution to fill the grilling void now that summer is leaving us behind?  Well take a look at this great review of our City Grill:
KENYON CITY GRILL KNOWS NO SEASONS, LETS YOU GRILL ANYTIME OF THE YEAR
We are quite fortunate over here. We can grill or BBQ virtually anytime of the year without worrying about seasons. however, for those who have to put up with seasons, things are, well, at the mercy of the seasons. sure, if you have a huge ass house, you probably have a mega size covered area where you could get a fire going for grilling, but obviously, most of us don't have such luxury and this where the City Grill by Kenyon comes in. with it, you get to enjoy the joy of grilling and savor grilled food, all in the comfort and warm of you home and at anytime of the year. it is a portable electric grill that offers 155 square inches of grilling real estate and pre-heats in under seven minutes, which means you could even have grilled food for dinner if you want to.
Kenyon City Grill promised up to to 600F of heat across the entire grilling surface, emits almost nos moke (a healthier choice, no doubt and no risk of triggering your smoke detector) and no risk of flare ups, and is made of weather resistant, rust-proof marine-grade stainless steel, making it the ideal grill for both indoor and outdoor, and you know what that means, don't you? it means grilled food whenever you want without being bound to the seasons. during summer, you can get the party going at your backyard and when spring/winter arrives, you can keep the party going indoor. the best part is, it can just sit on your kitchen countertop or any table of your choosing, or built into the countertop. the choice is yours. but we would think the former will be a better option as it allows the flexibility of outdoor and indoor uses. after all, that's the whole idea of acquiring this, isn't it so? however, you have to be quite a serious grilled food fan to be investing in one as it does come with a rather hefty price.