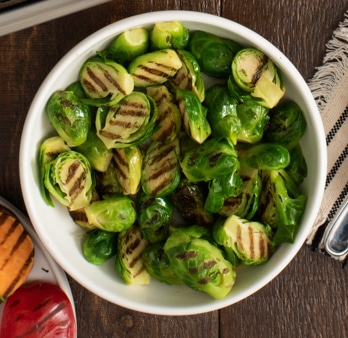 Grilled Brussels sprouts are perfect for a quick and easy weeknight dinner side or meal-prep for the week.  This is sure to become a go-to recipe!
Preparation Time: 10 minutes
Grill Time:  10 minutes
Total Time: 20 minutes
Serves: 4
Ingredients:
 1 pound Brussels Sprouts
1-2 tbsp olive oil
1/2 tsp cracked black pepper
1/2 tsp kosher salt
Instructions:
Preheat your Kenyon Grill to medium heat.
Cut off the stem end of the Brussels sprouts and remove any yellowing outer leaves.  Place the Brussels sprouts into a microwave safe mixing bowl and heat in the microwave for 3 minutes.  Add the olive oil, black pepper and salt and toss to combine.
When the sprouts are nice and coated, place on the grill. Cook and cover for 10 minutes, turning the sprouts halfway through.  Serve as is or add additional flavor to your liking.