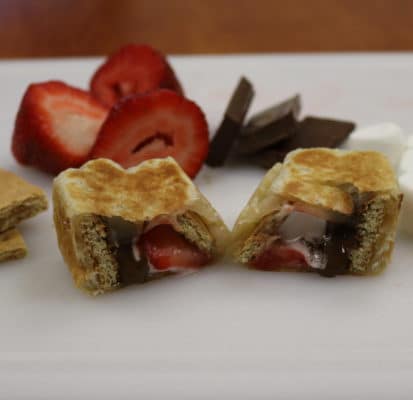 Ingredients:
1 package of graham crackers (honey)
1 bag of marshmallows
1 package of chocolate
1 package of puff pastry
½ cup strawberries (optional)
Directions:
Using griddle attachment, preheat Grill to medium heat.
While grill is heating up, build s'mores

Cut puff pastry into 3" x 6" pieces
Break graham crackers into quarter sized pieces, placing one quarter on the puff pastry
Place segment of chocolate bar on top of graham cracker
Place marshmallow on chocolate and top with another quarter of graham cracker
Using the puff pastry, wrap the s'more completely, folding it over on the edges and pinching the pastry together.

Place pastry s'more directly onto the griddle
Cook on 2 minutes each side
Let cool, Enjoy!
Prep time: 10 minutes
Cook time: 8 minutes