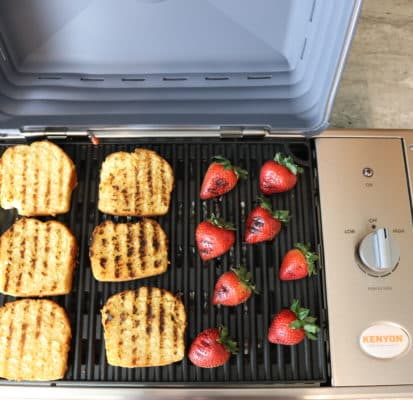 This Grilled Strawberry Shortcake is super easy to make and will impress any guest you have over for dinner!  There's nothing better than sweet grilled strawberries.
Preparation Time: 5 minutes
Total Time: 15 minutes
Serves: 4
Ingredients:
8 oz container of whipped cream
1 LB package of strawberries
1 store-bought pound cake, sliced into 1/2 inch slices
Instructions:
Add liquid to your drip tray and let the grill preheat for 7 minutes on medium (4 bars).
Grill the cake slices and strawberries using tongs until grill marks appear.  This will take about 1  to 2 minutes to appear. Flip and grill until grill marks appear on the other side.
Remove from the grill and serve each slice of pound cake with 4 – 5 strawberries and 1/2 cup of whipped cream.