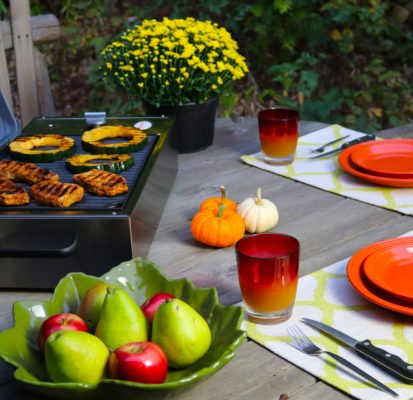 These grilled Apple Cider Glazed Pork Chops bring a taste of autumn straight from the grill to your dinner plate. Set the table with fall inspired decor, flowers and colors to bring it all together. 
Preparation Time: 15 mins
Total Time: 30 mins
Serves: 4 – 6
Ingredients:
2 lb package of boneless pork chops
Rub:
3 tbsp brown sugar
2 tsp chili powder
1 tsp garlic powder
1 tsp sea salt
1/2 tsp pepper
2 tbsp olive oil
Glaze:
2 cups cold, fresh apple cider + 2 cups for drip tray
1/2 cup Vermont maple syrup
1 1/2 tbsp dijion mustard
1/2 tsp red pepper flakes
1/2 tsp sea salt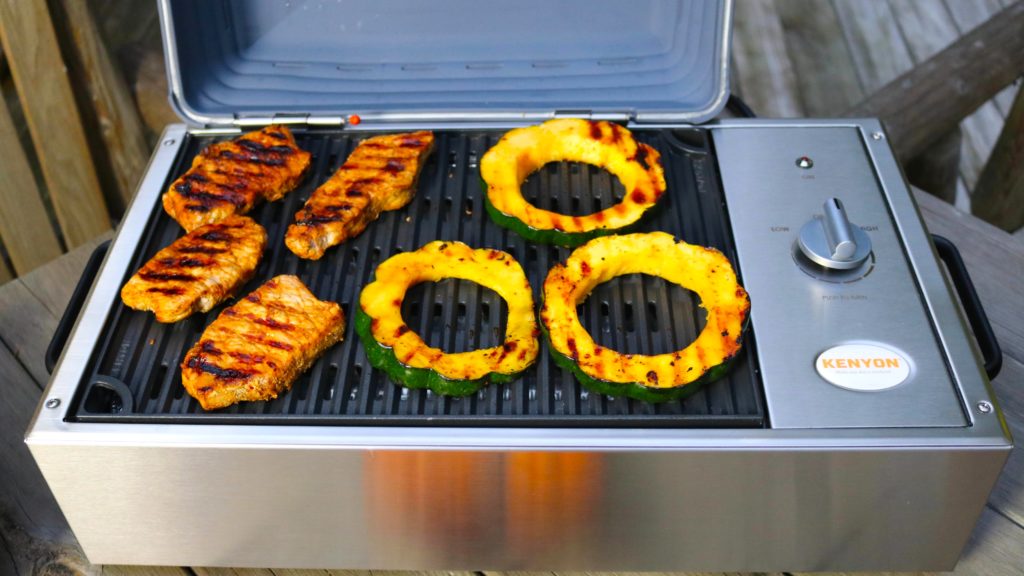 Instructions:
Add apple cider to your grill's drip tray to infuse flavor into your pork chops.
Turn on your Kenyon grill and preheat for 7 minutes on medium high heat (6 bars).
Start by preparing the glaze in a saucepan on your Kenyon stove top. Stir in the cider, maple syrup, dijion mustard, red pepper flakes and salt. Bring ingredients to a simmer.
In a medium sized bowl, add brown sugar, chili powder, garlic powder, sea salt, pepper and olive oil and mix together. Apply rub liberally to the pork chops, massaging in for extra flavor and to create a more tender,  juicy piece of meat.
Brush the pork chops with the glaze and place on the heated grill. Close the lid and grill for about 5-6 minutes, flip the chops and brush the glaze on the other side. Grill for an additional 5 minutes until grill marks appear. Flip again and glaze the pork chops one last time. Cook for a total of 10-12 minutes or until an internal temperature of 145 is reached.
This glaze can also be brushed onto halved apples and grilled along side the pork chops.
Remove pork chops from the grill and let rest for 5 minutes before serving. Add a seasonal inspired side dish like grilled squash, sweet potato, pears or apples.